Network and Systems Engineer Job Opportunity at SEA-KIT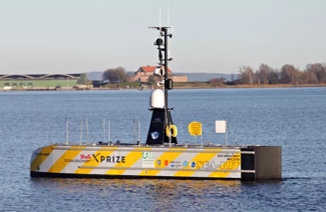 SEA-KIT is an Essex based company focusing on the development of Uncrewed Surface Vessels (USVs). Based in Tollesbury, the have developed a leading solution to remotely map under the sea. Their solution won the Shell Ocean Discovery X-Prize and recently completed a three week mapping mission in the Atlantic. SEA-KIT are currently looking for a network and systems engineer to join their team. The full job description can be found below.
SEA-KIT is a leading Uncrewed Surface Vessel (USV) designer and developer, focused on over-the-horizon deployment of various maritime systems and sensors. Our USVs have applications across various sectors including maritime logistics, environmental management and the security and monitoring of offshore assets. Through its collaboration with industry partners, SEA-KIT is sharply focused on driving down the cost of geo-data collection and reducing the sector's carbon emissions.
SEA-KIT is looking for a network and systems engineer to work alongside our technical director to develop, integrate, and test the next generation of USV systems.
Job responsibilities 
Communicating with Technical Director and other project managers
Identifying and understanding the uncrewed surface vessel systems and network needs
Assist in establishing the networking environment by designing system configuration, documenting and enforcing system standards
Creating network topology and architecture diagrams
Assisting with new system hardware integration and compatibility
Configure and install various network devices and services (e.g. Routers, Switches, Firewalls, VPN, Security protocols)
Evaluating and maintaining the system performance
Ensure system availability and reliability
Provide support to on-site engineers and end users/customers including troubleshooting system problems
Possibility of occasional travel to vessels and sites for upgrades and support
Skills
Good understanding of networking protocols (e.g. Cisco networking at layer3 level, VLAN/802.1q. LACP/802.3ad, IPSEC and VPN in general DNS, DHCP, VRF routing /VRRP/HRSP etc,)
Understanding and experience of TCP/IP model AND OSI layering
Network architecture and drawing skills
Hands of experience with monitoring, network diagnostics and network analytics tools, incl support desk experience
Excellent communication skills, particularly the ability to communicate with staff who aren't technically trained
Ability to take on a variety of tasks and pay attention to detail
Analytical and problem-solving ability
Strong organisational skills and the ability to prioritise your workload
Qualifications
The ideal candidate will have a qualification in one of the following disciplines:
computer software/computer systems engineering
computer systems and networks
electrical/electronic engineering
network security management
Ideally the candidate will also have or is currently working towards a Networking certification - CCIE (Cisco Certified Internetwork Expert) or similar.