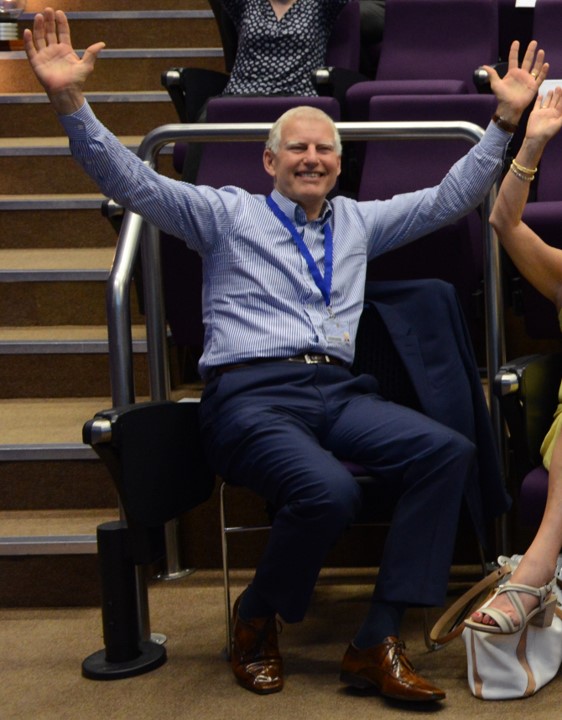 Obituary: Vic Leverett (1944-2023)
Vic Leverett OBE, Past President
Vic Leverett, who has died aged 78, was a former President, recent trustee and active committee member of CSES. From 2009 until his death, Vic was instrumental in modernising the society, raising its profile and building partnerships across Essex to bring science and technology to everyone. His work has had a lasting impact, felt by a lot of people in both the public and private sectors.
After sponsored studies, Vic enjoyed a long and illustrious career at the English Electric Valve company (EEV), now Teledyne e2v, from where he became involved with CSES.
Roger Pittock, a colleague of Vic's at EEV and latterly a good friend and fellow CSES trustee, reflects on their time together, in a celebration of Vic's life.
---
I FIRST MET Vic in 1987, when the manager who recruited me in 1978 retired – Vic was parachuted in as my boss's boss. Was I impressed? You bet! However, it took me a while to get used to his dynamics.
He listened. He not only thought outside the box, but outside all the boxes (in a good way); he presented his own ideas, incorporating others' thoughts where appropriate; and he recognised others' ideas and helped them develop them.
He was a people person. He looked for – and found – good in everyone; he played to their strengths and, where appropriate, he helped them to develop more strengths. He was an unofficial mentor to so many, recognising people's achievements – and making sure that others did too.
He took our department to great heights. One example: we designed and made thermal imaging cameras – which, among other things, could see through smoke; these were starting to be used by fire brigades. In the Falklands conflict, Argentina had sunk the D80 HMS Sheffield in 1982. A more recent report criticised the firefighting capabilities on board. Thanks to Vic's foresight, determination and willingness to go out on a limb, a compelling case was made for the Royal Navy to install ruggedised Thermal Imaging Cameras, and a large number of vessels were retro-fitted, saving lives. He had based his pitch to management on little more than a prototype, but his experience and confidence in his team was such that he knew we could quickly develop a version suitable for the extreme environment of a burning ship!
He delegated, facilitated – and empowered. I learned a new phrase: "Action Roger". Others learned new phrases too – the first word was invariably "Action". We all knew where we stood, and the orchestra was conducted so it played in tune and in time.
Then came 1991, when EEV's world was set to go flat from silos by order of GEC management. As the new norm bedded in, Vic was rightly appointed Marketing Director – and then on to even bigger establishments.
***
FAST FORWARD TO 2009. I had been on the Chelmsford Engineering Society Council for about a year and felt it needed reinvigorating. I didn't have to think long to realise who would best inject the necessary impetus. Having established his willingness (did Vic know the word "no" in answer to the question of taking on additional responsibility?), he was installed as President at the 2009 AGM – and still possessed all those dynamics from EEV days.
Becoming the first president in the society's 90+ years to serve a 3-year term, Vic brought about a transformation of the society. Just some of his many achievements:
He spearheaded "Engineering Our Future" – a new way to join up schools, industries and universities – including one on music where he persuaded son Paul to take centre stage!
Thanks to his wide circle and influence, he raised sponsorship by a quantum leap on promise of what we were about to deliver (and did deliver over the next few years).
Recognised the aging demographic, he formed the affiliated FES – Future Engineers and Scientists – with its own young council and a broad remit.
He promoted the importance of science within the engineering community – resulting in the name change to The Chelmsford Science and Engineering Society.
He brought influential keynote speakers to CSES events and started to put us "on the map" with larger organisations.
Vic remained active for the society after his presidency – an ambassador at every opportunity. Among other things, he upgraded Engineering Our Future to an interactive version: "My Smarter Essex", which continues today.
A year or more before Covid struck, Vic began collaboration with Chelmsford City Council and Essex County Council, with the intention of seeing beyond the horizon for new smart cities. Technology was ready but public acceptance was not. Vic helped the Councils and CSES develop a 5-year vision for Chelmsford, which came true almost overnight during – and actually because of – the pandemic.
The annual Vic Leverett Enterprise Award honours his achievements at the TEXPO schools' competition from 2022 annually, in perpetuity.
***
TO CLOSE, VIC was one of the best at summarising in very few words. Here's an example from a lecture he delivered to CSES in 2011 called "From Boffins to Boardroom" – the opening slide, just four lines:
1956 – 1977       We knew our place
1977 – 1995       We learned management speak
1995 – 2007       Management learnt our speak
2007 >>               We can't stop talking
Sixteen words to summarise 66 years. I have used that as inspiration and summarise my take on Vic in sixteen words:
An inspirational leader and gentleman, who motivated everyone he came into contact with, for greater good.
I – and I know everyone – will miss him greatly.
Roger Pittock,
February 2023