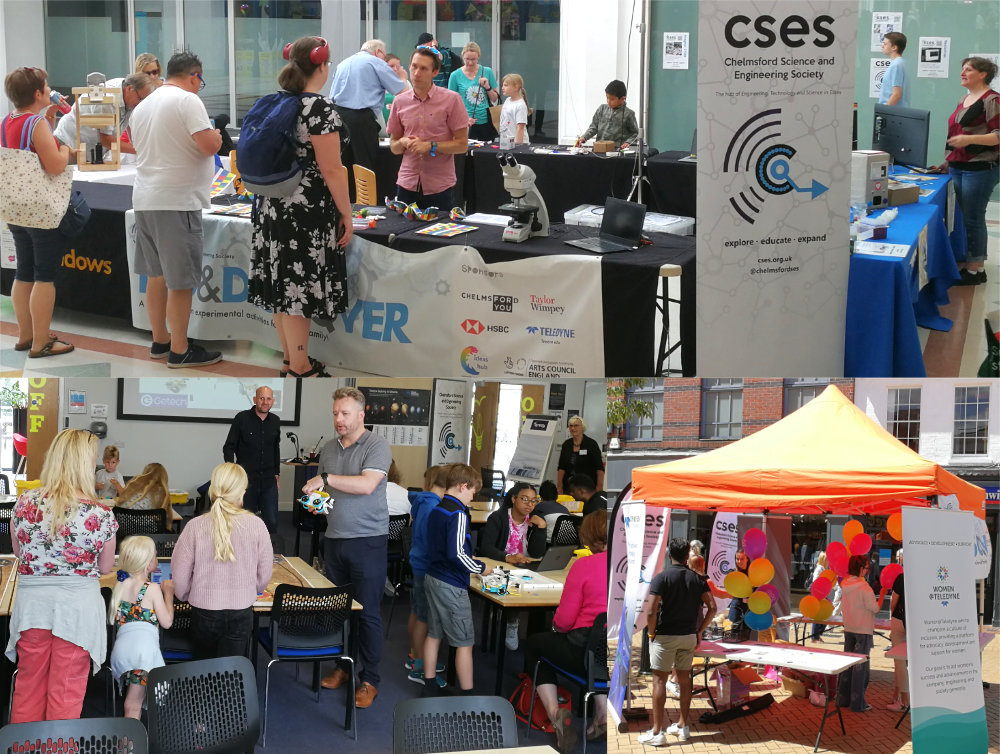 CSES at the Chelmsford Festival
Following the success of the British Science Festival in September 2021, CSES was back in June 2022 for the Chelmsford Festival, bringing Do and Discover to the city. A new joint initiative between CSES and Chelmsford Festival, Do and Discover is a weekend of fun experimental activities for all the family, taking place across Chelmsford. Working with our partners, we were delighted to put on a packed programme that was widely regarded as a highlight of the festival.
Saturday 25 June saw a family Lego day at ARU organised by Make Happen, alongside the Marconi: Innovation and Beyond exhibition also taking place, with a special thermal imaging demonstration by Leonardo for the festival. On the Sunday, IOP (Institute of Physics) East Anglia Branch held the post-pandemic return of their spectacularly popular PhysicsFest at KEGS. Across both days, CSES were joined in the city centre (Meadows and High Street) by Teledyne e2v, Essex Steamettes, the Wellcome Sanger Institute, the Ideas Hub and ARU to put on a rich display of hands-on experiments, STEAM / craft activities and career opportunities.
From figures obtained at the events, we know that over 700 people and families directly took part in one or more of the activities.
Our thanks to all the organisations and people involved, and we look forward to returning for both the Chelmsford Festival and Chelmsford Science Festival in 2023!