Greensward Academy at the CSES Schools' Challenge
12 students from the Greensward Academy attended the CSES Schools' Competition
On Friday 28th June, 12 Greensward students attended the Chelmsford Science and Engineering Societies' Annual Schools' Competition. The event was hosted by Anglia Ruskin University where the students presented the 3 projects they had been working on, either in STEM club, or as part of the Engineering Education Scheme, to a range of judges from the local science and engineering community.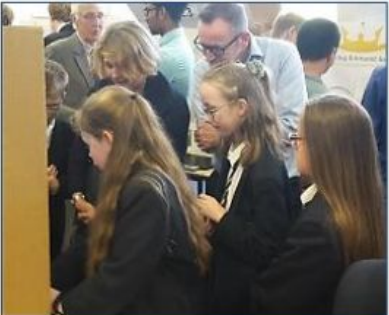 Each project was graded by the judges, and the best projects from the day were invited back to an awards ceremony in July. The students had the opportunity to gather inspiration from the other schools' entries, as well as explaining what they'd been up to, to various dignitaries including Vicky Ford, MP for Chelmsford. The students had a great time, and did really well. Nathan Smith in Year 7 has already started planning his project for next year!
This article has been taken from the Greensward Academy STEM Roundup 2018 - 2019 and has been edited. The CSES STEM Club Bursary (details of which can be found here) finances some of the Greensward STEM activities.