PAPi Competition National Finalists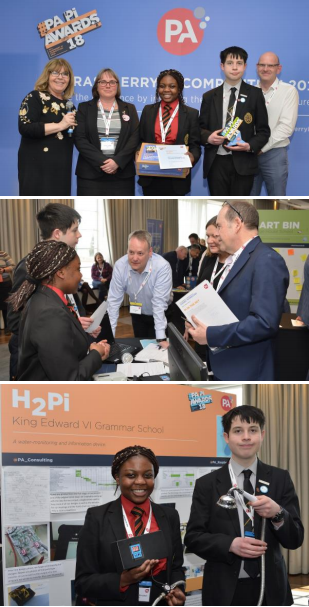 CSES Schools' Competition entry selected for national final of Raspberry Pi design contest
Toby Cook and Wezi Phiri-Phinjikah of King Edward VI Grammar School tell the story of their H2Pi Watermeter.
The challenge for the PAPi Raspberry Pi competition 2018 was to invent a product to promote sustainability using a Raspberry Pi and our idea was a smart water meter.
We designed and built our solution at Senior Young Engineers Club on Wednesday lunchtimes and after school. The device scans the surrounding area for a suitable Bluetooth device, and if there are multiple devices nearby, connects to the closest one. When the user takes their shower, the flow meter component connected to the shower hose will produce a number of rising edges as each litre passes through. The Raspberry Pi then interprets these signals to calculate the number of litres that have been used. For every litre that is used, the Raspberry Pi will send a signal to a counter circuit, causing a two-digit seven-segment display to count one for every litre. This allows the user to keep track of their water consumption while they are in the shower. Then when the user has finished their shower, the device will send a message over Bluetooth to the connected device informing the user on the amount of water they have used, the cost of this water, and some better causes that the water could have been used for such as watering livestock or crops.
The project is still in development and it requires several improvements to be made, such as a watertight case, suction cups on the back to fix it to the wall and a longer cable between the flow meter and case allowing it to be placed further from the shower. The idea behind our project was that people would be less inclined to use excessive amounts of water in their shower if they were made aware of the impact they were having on the environment.
We were one of three national finalists selected in our age category for our invention and so travelled to the Institution of Engineering and Technology (IET) Savoy Place on 17 April 2018, where we took part in various activities such as bridge building (which we won!), talking to industry representatives and code breaking. Then we had to present our invention to the judges and answer lots of questions. Finally came the award ceremony where we found out we came a close second to Collyer's Sixth Form College (West Sussex), who had invented a portable wind turbine. The day was great fun and our project received a lot of interest and compliments.
We also took our invention to the CSES Schools' Engineering and Technology Competition on 25 June, where we presented our project to several pairs of judges. While we were there, we saw several impressive projects such as robots, weather balloons and arcade machines all powered by a Raspberry Pi. We have just heard that we are one of the finalists in this competition and will find out where we were placed at the Awards Ceremony on 11 July.
By Toby Cook, King Edward VI Grammar School
H2Pi Watermeter went on to win the Anglia Ruskin University Award at the 2018 competition.