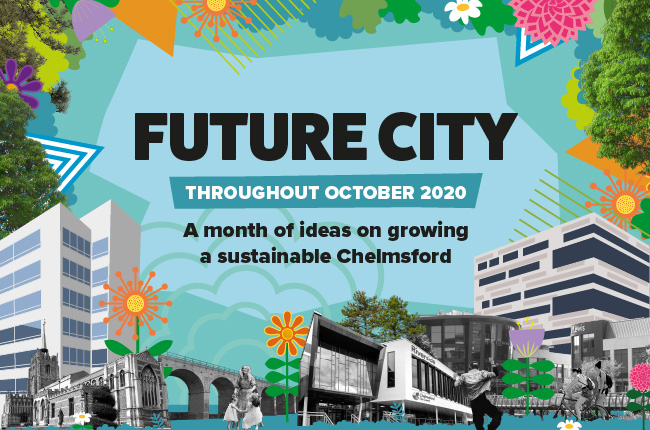 Future City: New Green Festival Begins in Chelmsford
Launch of the Essex 2020 autumn programme
"A month of ideas on growing a sustainable Chelmsford" is how October is being labelled by Chelmsford City Council
The council is bringing together organisations from across Chelmsford to create Future City: a month of ideas on growing a sustainable Chelmsford. The mainly digital festival runs throughout October and tackles the themes of climate change, biodiversity and sustainability. The programme is intended to capture the moment as we think about life post-COVID-19, and it's hoped events and activities will encourage people in the city to make connections and provide fresh thinking about the future.
Cllr Rose Moore, Chelmsford City Council's cabinet member for Greener and Safer Chelmsford says the conversations we have now are crucial for all aspects of our city to thrive in the future:
"The great disruption of the pandemic has impacted every area of our lives. It has also prompted us to reflect on how we might live differently to set us on the right path for the future. This dynamic festival – brought to us by people and organisations from across Chelmsford – is helping us to start these important conversations in an exciting and accessible way. I'm looking forward to taking part as this will mark the launch of a programme of regular green activities and events in Chelmsford over the next 18 months."
Future City, which is part of Essex 2020, brings together a range of experiences. These include original performances from Connect: Black Chapel Collective, the City Photo Exhibition, Eco-Casts inspired by the Essex Book Festival's Manifesto For Essex, and an audio-visual installation from the Resonance Collective.
RSA Essex is holding a free conference called Shaping Our Future to consider how the world could and should change after COVID-19, and CSES is celebrating its centenary with an evening event on the exciting work taking place in Essex right now to secure a more sustainable future for the county.
Adam Wood, the incoming CSES president and a Teledyne e2v engineer says it's a great opportunity for organisations around the city to find solutions together:
"This event is a fantastic collaboration between CSES, Chelmsford City Council, Anglia Ruskin University, the Essex Steamettes, and many others to discuss really big sustainability topics like the problem of plastic pollution and how science and technology can help. The connections we are making now will lead to some exciting initiatives and partnerships in the future. Join us in October to find out more."
The full festival lineup can be found on Chelmsford City Council's new website for all things green – www.loveyourchelmsford.co.uk – along with much more information about green spaces, green living and other events in the city. Future City runs between 1 October and 2 November.