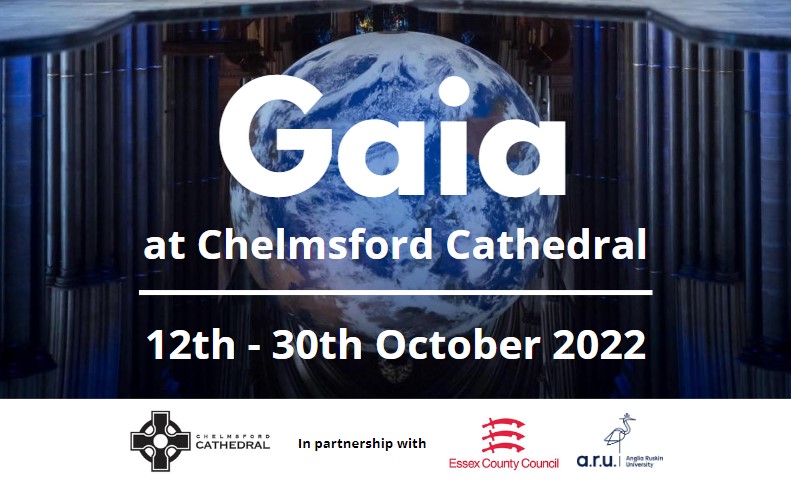 Gaia at Chelmsford Cathedral: Volunteers needed!
Gaia at Chelmsford Cathedral: 12-30 October 2022
Chelmsford Cathedral is delighted to be hosting Gaia, the immersive art installation of the earth, for the first time in Essex.
Created by artist Luke Jerram, Gaia measures six metres in diameter and was created from 120 dpi detailed NASA imagery of the Earth's surface. Visitors to Gaia get to see the Earth as if from space; an incredibly beautiful, fragile and precious place. At night the artwork is lit up and accompanied with a specially made surround sound composition by BAFTA award winning Composer Dan Jones. Connected to the Cathedral's mission and achievements as an A Rocha Gold Eco Church Award holder, this awe-inspiring art installation will be complemented with an exciting programme built around two key themes: Environment and Engagement.
How can I be involved?
To help us deliver this exciting project, we are looking for enthusiastic and dedicated volunteers. As a Gaia Volunteer you will meet and greet visitors, share information about the artwork, help direct people through the building and ensure everyone has a great experience encountering Gaia. Each day will be split into morning, afternoon and evening sessions and we hope that volunteers will complete at least three sessions over the course of the installation. All volunteers will receive full training and support from the Cathedral events team.
If you wish to volunteer, please read the job description, and complete an application form by 12th August.
An application form can also be completed online by visiting
https://forms.gle/yEupkRrWH2kReoxx6
Please forward any other hardcopy or digital forms to Laura Brayford, Operations Manager:
Email: This email address is being protected from spambots. You need JavaScript enabled to view it.
Post: Cathedral Office, 53 New Street, Chelmsford, CM1 1TY
If you would like to know more about this unique opportunity before applying, please call Laura on 01245 294470 between 10am-12pm.
Links to documents