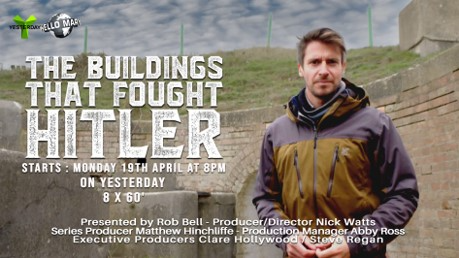 The Buildings that Fought Hitler - Featuring Baddow Tower
UKTV's Specialist factual channel Yesterday is airing an eight part series on the buildings that helped fight Hitler. CSES's Chris Neale tells the series about Baddow Tower.
Airing every Monday from April 19th, The Buildings that Fought Hitler is an eight part series exploring the range of buildings, structures and engineering that would help defend Britain in the case of Nazi invasion.
Chris Neale, CSES's Programme Manager, helps present a segment describing the role that Baddow Tower, one of the original Chain Home Radar Towers, played in the defence of the country.
You can see Chris in episode 4, broadcast on Monday 10 May at 8pm. Catch up on UKTV Play.
The series is present by Rob Bell and each episode will air every Monday on Yesterday (Freeview: 26, Sky: 155, Virgin: 129, Youview: 26, Freesat: 159, BT: 26. TalkTalk: 26).