Chelmsford Cathedral is delighted to be hosting Gaia, the immersive art installation of the earth, for the first time in Essex.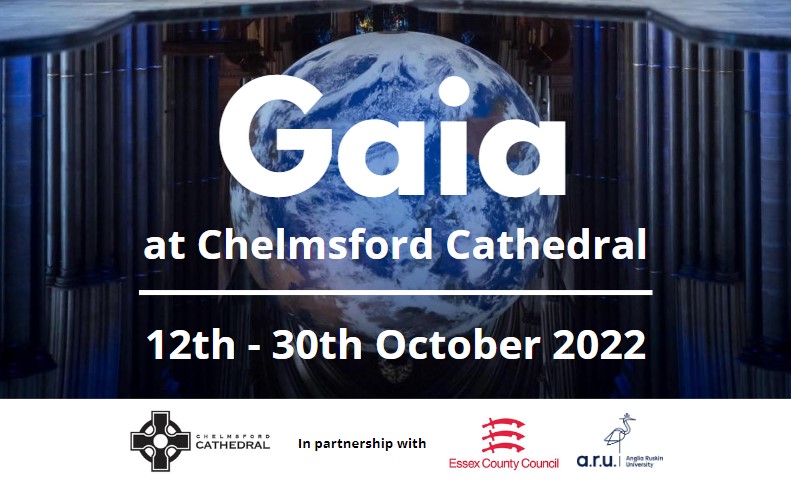 Gaia is a touring artwork by UK artist Luke Jerram. Measuring six metres in diameter and created from 120dpi detailed NASA imagery of the Earth's surface, the artwork provides the opportunity to view the planet, floating in three dimensions.
It will be suspended, two metres up, giving visitors an opportunity to see the earth as astronauts see it from space and will fill the nave of Chelmsford Cathedral. Artist Luke Jerram hopes that visitors will be inspired, seeing our planet in a new way and that the installation will give people an opportunity to reflect on its vulnerability.
The three-week event will focus on education and the environment with a range of exciting events and opportunities. Gaia will also be free to visit during the day. Especially for half-term, there will be events taking place for families and an opportunity to see Gaia spectacularly lit at night.
Alongside general visiting, Gaia is also open for special events throughout October, including some in conjunction with Chelmsford Science Festival.
Visit the Cathedral website to find out more and to book your visit.

Come and learn about how Teledyne e2v's world-class technology is used to capture stunning imagery of the Earth and space, and Chelmsford's unique connection to space imaging and Earth observation sciences. CSES will also be running a family activity during half-term week.
When
12 October 2022, 10:00 to 30 October 2022, 22:00
Location
Chelmsford Cathedral
New Street
Chelmsford
Essex
CM1 1TY
United Kingdom