"Controlling the Climate Crisis" – A photographic competition for all ages.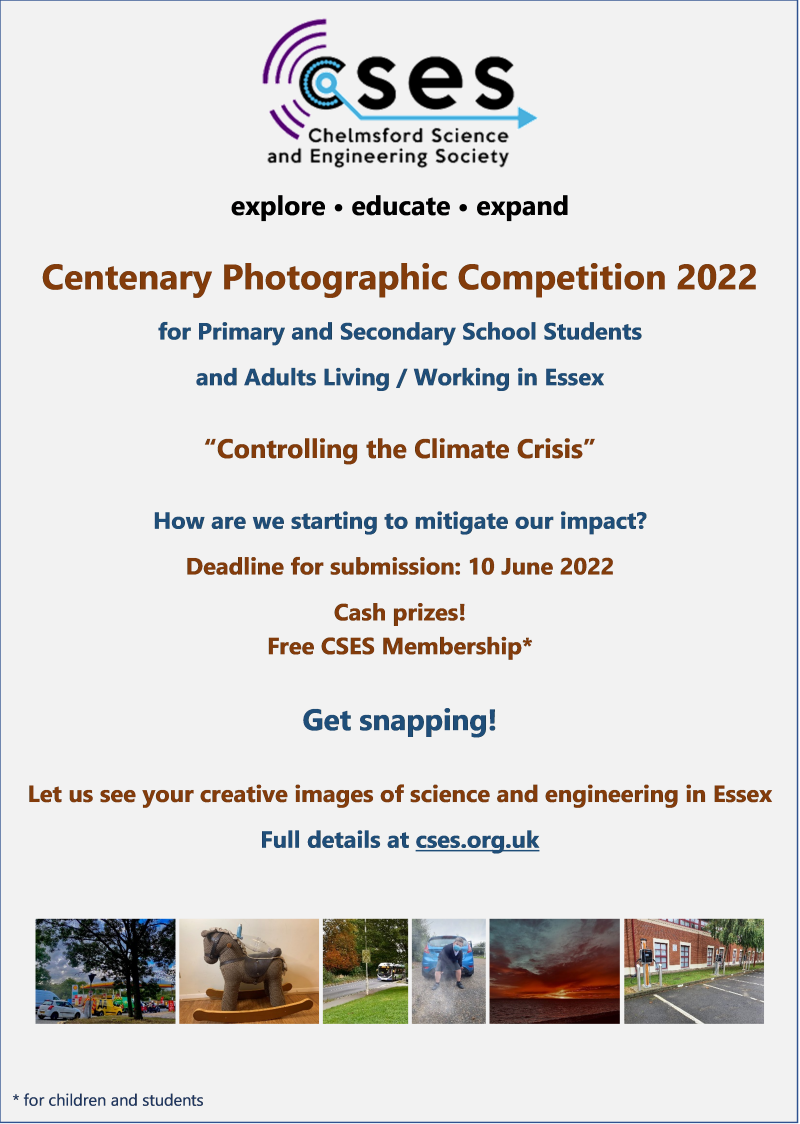 Our second annual photographic competition in 2021 received a wealth of entries, with a wide range of interpretations of around the theme of Fresh Air Fresh Thinking, and we were particularly impressed with the large number submitted by primary school students.
We are pleased to again invite entries for 2022. Exploring the key link between the creative arts and STEM, the competition is, as usual, to encourage primary and secondary school students to use their imagination and creative skills. On this basis, it is open to anyone in full time or part time education in Essex. However, this year we will also have an adult category open to any Essex resident or worker.
Climate change and global warming should be on everybody's agenda. From simple things like walking to school/work and planting trees to technological solutions like green power and carbon capture, we can begin to reduce greenhouse gases and our carbon footprint. Changes in lifestyles, technology, food, farming etc all provide a wealth of inspiration as to how we can help ensure a better world for future generations, so continuing last year's environmental theme, this year's competition is:
Controlling the Climate Crisis
We want you to take photographs that express what you think are the ways in which we are starting to mitigate the climate crisis. Each photograph should be accompanied with a short explanation (not more than 50 words) of the story or thoughts behind it.
Take out your camera or your phone and snap some photos that encapsulate the essence of climate change and the role of science and technology. We will be looking for photos that are creative in their approach, with an innovative angle on the subject, or have a creative interpretation of the themes.
There are three categories of entry: one for primary school students, one for secondary school students and one for adults living and/or working in Essex. The entries will be shortlisted by members of CSES and a panel of judges will select a winner from the shortlisted entries in each category.
Read the full details, including FAQs, terms / conditions and photography tips, here.
HOW TO ENTER:
Follow links to the event page on the CSES website (if you're not here already).
Click "Register / Enter Now" at the top or bottom of the page.
Fill in your details and submit your entry. If you're under 16 you'll need a parent to help you.
If you have any questions or problems, please don't hesitate to contact us.
Entries must be submitted no later than Friday 10 June 2022.
When
30 January 2022, 12:00 to 10 June 2022, 12:00