Join us for an online celebration of Essex 2020 – A Year of Science + Creativity.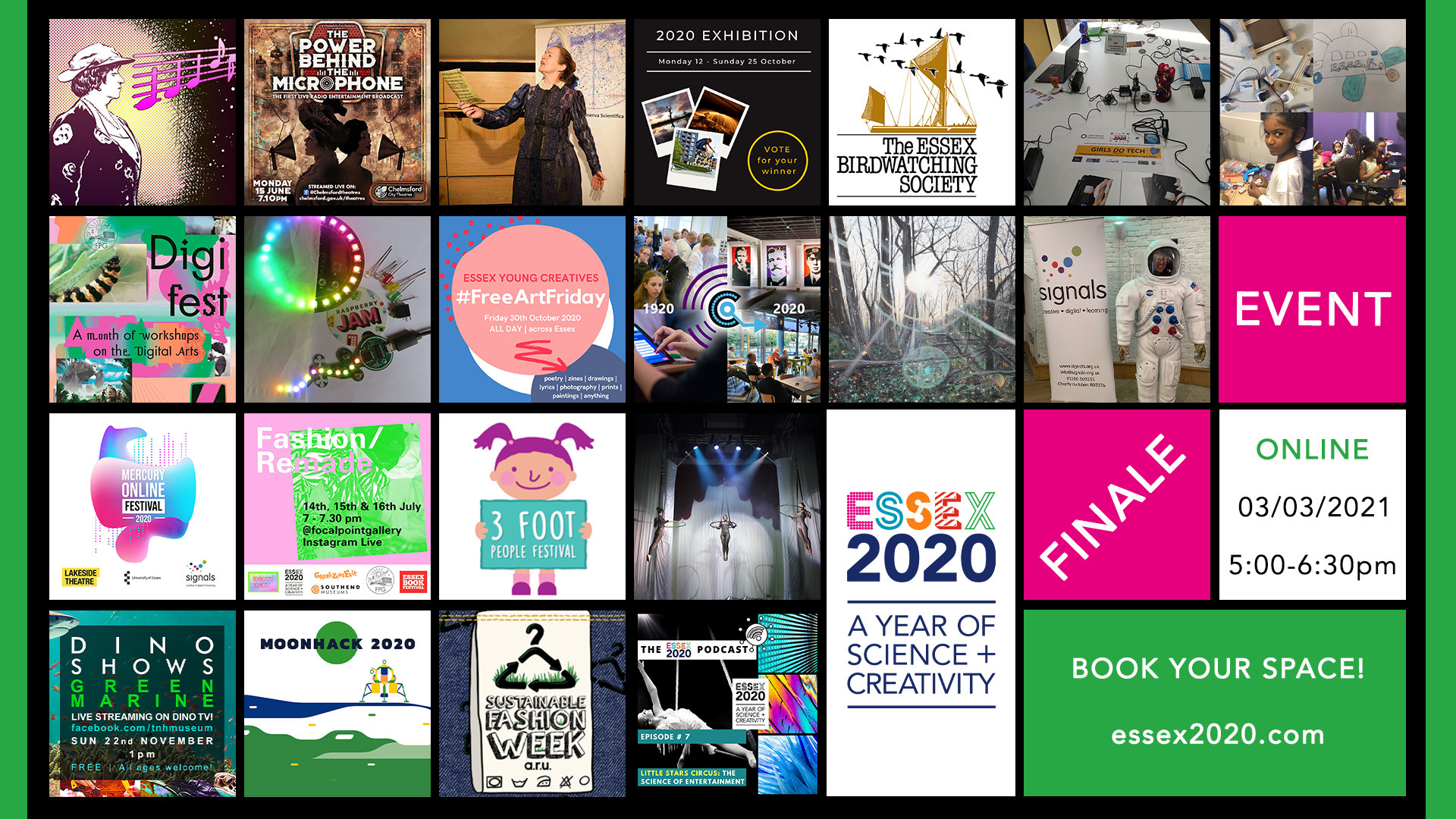 With over 500 events, competitions, exhibitions and recordings, it has been a brilliant year of science, technology, engineering, the arts and mathematics (STEAM) right across Essex.
Everyone is welcome to join us for a showcase of talks, videos and a look-back at an extraordinary year.
March 3rd 2021, 5:00-6:30pm online via Zoom. Book now.
ESSEX PIONEERS
5:00 – 5:25pm
Acknowledging and celebrating the men and women of Essex that have shaped history through invention and innovation. From Marconi to Margaret Cavendish, see how Essex's pioneers have been brought back to life through music, theatre, story-telling and digital art.
SCIENCE + CREATIVITY IN ACTION
5:25 – 6:00pm
In this year more than most, we've been asking big questions about the relationship between science, technology, imagination, curiosity and wellbeing – and Essex has never been more alive with ideas than it is right now. See some of the amazing Essex projects that are inspiring, educating and innovating in 2020.
DESIGNING THE FUTURE
6:00 – 6:30pm
From space science to electronic music, architecture to renewable energy – Essex has always been on the front-foot, with a spirit of experimentation and design. Find out more about the technology, creativity and engineering ideas that are going to shape the future.
The event will feature, amongst many others:
Matipo
Little Stars Circus
Signals
Black Chapel Collective
Essex STEAMETTES
Focal Point Gallery
Toddler STEAM
electric voice theatre
Essex Record Office
Chelmsford Science & Engineering Society
Sian Fan
Essex Book Festival
Chelmsford Waterways
Essex Police
March 3rd 2021, 5:00-6:30pm online via Zoom. Book now.
When
3 March 2021, 17:00 through 18:30
Location
Online meeting or live stream (see details)
United Kingdom