Introducing a STEM Club with a difference...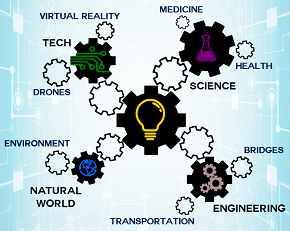 As part of the build up to our centenary in 2020, CSES, in partnership with Essex County Council (ECC) and Anglia Ruskin University (ARU), is launching an exciting new venture to support and encourage young people to consider the importance of science and technology in everyday life.
Imagine! STEM Club will start with a three-day workshop on 29-31 July 2019 in ARU's high-tech Super Lab.
Workshop programme
Day 1 (Mon 29 Jul 2019): I really need a holiday! + Super Lab
A look at biology and modern lifestyles to show this really can be true. Using the facilities of ARU's state-of-the-art Super Lab to show the benefits of regular patterns of eating, sleeping, exercise and fresh air.
Day 2 (Tue 30 Jul 2019): Is it a bird? Is it a plane? No it's a fish + Building bridges
Observing how fish swim and birds fly to improve the performance of ships and aircraft. This session will conclude with a Flying Fish race. Exploring why the same ship may be able to safely carry a much heavier load in some seas than others, and a look at the different ways bridges are supported.
Day 3 (Wed 31 Jul 2019): Plastic – fantastic or drastic? + The future is here
Contemplating not just the negative environmental aspects of plastics, but the positive sides too, and considering what can be done to lessen the environmental impact of plastic waste. An opportunity to program and fly a drone and experience the world of virtual reality, finding out how to get started with this technology on a low budget. Students should bring an Android phone or iPhone to get the most out of this.
Age range
This programme is suitable for children aged approximately 12-14 (equivalent to Key Stage 3 or school years 8-9).
Session times
Students should arrive at 09:50; all sessions will run from 10:00 until 15:00. Students should bring their own lunch.
Immediately following the last session, parents are invited to join their children at a short ceremony when certificates will be presented, and snacks provided.
Cost
Attendees will be asked to make a non-refundable contribution of £12 towards equipment costs for the whole of this programme. This will be waived for those unable to contribute.
All attendees of this programme will be eligible for free student membership of CSES.
Safeguarding
All session leaders will have current DBS (Disclosure and Barring Service) clearance.
Please see our safeguarding policy here.
Interested?
If you would like your child to enrol on this programme, please book through Eventbrite.
If you have any questions, please contact us.