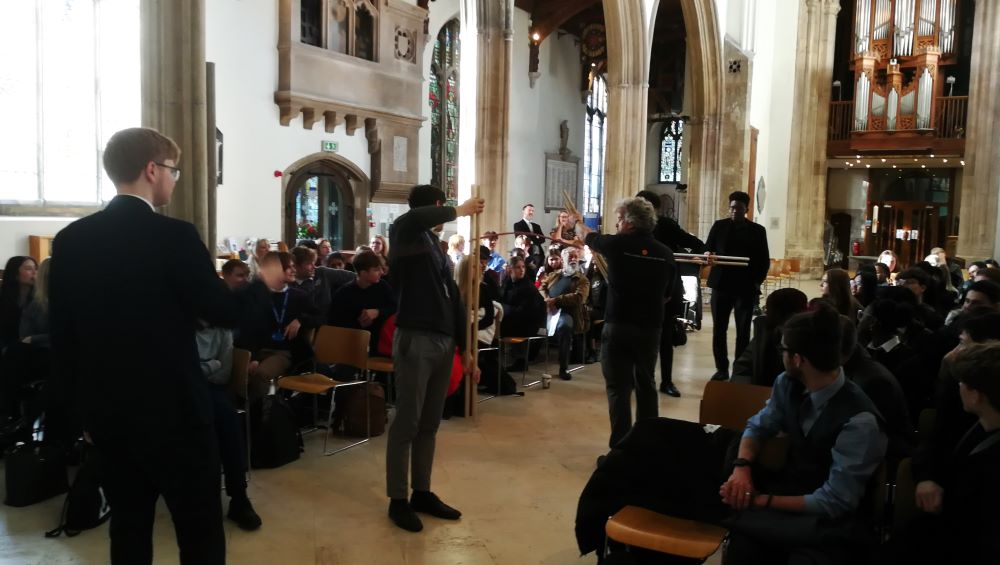 CSES co-hosts STEM Conference with Drapers' Academy and Chelmsford Cathedral
Report from the event: 15 November 2023
On Wednesday 15 November 2023, Chelmsford Cathedral hosted a Science, Technology, Engineering and Mathematics (STEM) conference for teachers and young people from a range of schools across Essex and East London. Participants came from Castledon College, Beauchamps High School, Drapers Academy, CCHS, CVHS and St John Payne. In total, well over 100 students.
The day was the latest in a series going back over ten years organised by Ivor Moody the Vice Dean and Canon Pastor (and latterly with Lee Bryant, Head of Sixth Form at Drapers' Academy). Students from years 11, 12 and 13 are offered the chance to experience a cross-curricular day, seeing how the academic subjects they are studying can cross-connect and interact with other academic disciplines, subjects and situations which are relevant to, and which may be encountered by, the students as they progress in their studies and experience 'the real world'.
The STEM Day was especially significant this year as Adam Wood, who works for Teledyne and is President of the Chelmsford Science and Engineering Society and who was involved with the Gaia project last year (which drew over 30,000 visitors to the cathedral to stand under the giant revolving globe suspended from the nave ceiling), worked with Ivor and Amy Knight from Drapers' Academy (and CSES Secretary) to stage this year's STEM conference. He made some direct links between the STEM Day and the involvement of the scientific community and Anglia Ruskin University with the Gaia project, and showed all the students some slides of the awesome globe as it slowly revolved in the main body of the cathedral.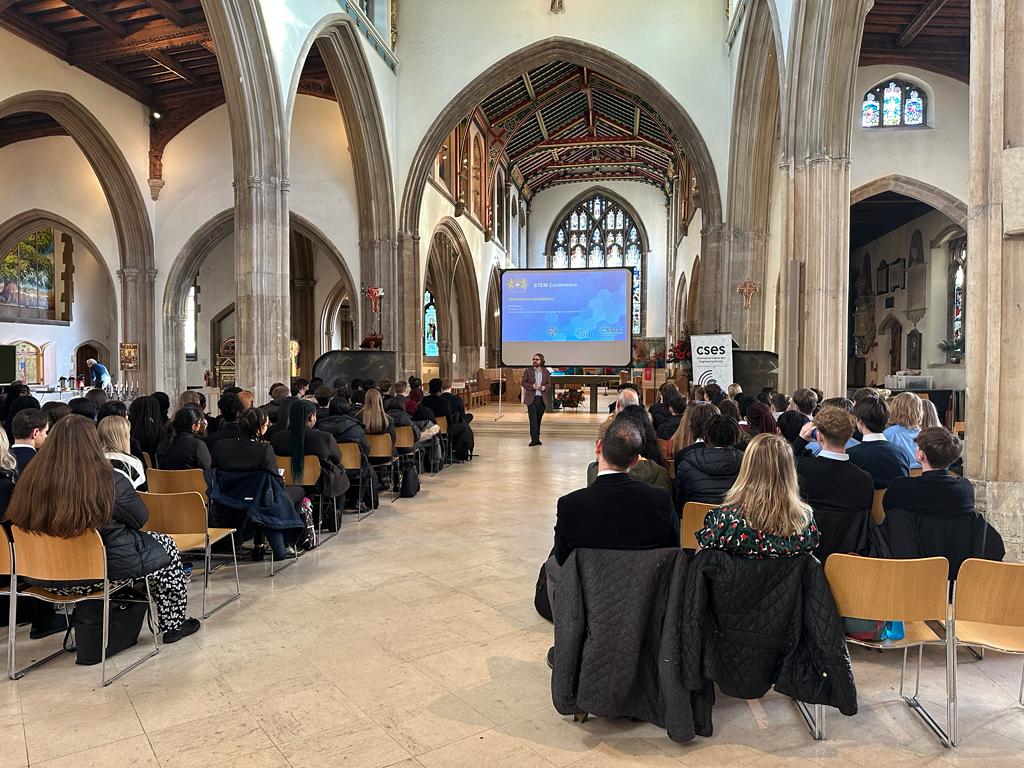 The students listened to two talks. The first was by Alan Denton from the Institute of Physics on Quantum Key Distribution and polarised light, and the second was by Dr Krishnaa Mahbubani from the University of Cambridge and Addenbrooke's Hospital, who talked about her experience as an engineer and a scientist involved with drug research and the science and management of organ transplantation. After both talks, students were given the chance to leave their opinions and ask questions via the PollEverywhere app on their phones, which could then be translated to the big screen. The talks were followed up by a tour of Anglia Ruskin University's Medical School by some of the Drapers' Academy students.
Ivor 'topped and tailed' the conference, describing to the students how cathedrals down the ages traditionally were centres of education, research and debate; natural and safe gathering points for people of different creeds and beliefs to come together to trade, share and learn. He said a day which could hold a STEM conference within a cathedral environment showed that after hundreds of years of mutual suspicion and mistrust between science and religion, the day demonstrated there was a renewed chance and opportunity for the two to explore their need for each other and that former enemies were re-discovering their capacity for friendship, cooperation and dialogue. A fact which itself demonstrated the importance of breaking out of a tunnel vision and out of 'silo working' and realising that we have much to learn from each other and what might be achieved by working together.
Words: Ivor Moody
Pictures: Adam Wood, Alan Denton