Meet the team
Contact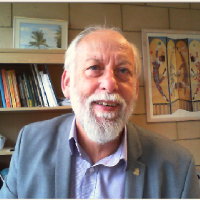 Position:

Trustee (Vice President Education Outreach) / Emeritus Professor, ARU
This email address is being protected from spambots. You need JavaScript enabled to view it.
Miscellaneous Information
Since completing his doctorate at UCL, David has worked for over 30 years as a researcher, lecturer and senior university manager. His principal research interest is the immuno-biology of intracellular infections.

David worked for over 12 years in Kenya and Ethiopia before joining the university sector in the UK. David moved to the Chelmsford Campus of Anglia Ruskin University (ARU) in 2007 as Pro Vice Chancellor and Executive Dean of the Faculty of Health, Social Care and Education, developing a faculty with over 10,000 students across 3 campuses with a research and tuition income of over £40 million a year.

Before taking on his role as Emeritus Professor, David was the Provost of ARU's Chelmsford Campus and was responsible for driving the development and expansion of all activities across the campus including the built environment, engineering, computing, health, social care, education, business and finance.

David has science in his genes and is a strong advocate for STEM, helping to support its development and profile in schools, colleges and universities as well as the community at large.